C-5345 PBLS50 FC-2970 Spa Filter Canada M50451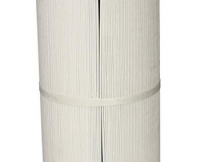 45 sq. ft. replacement spa cartridge filter model C-5345 replaces the following hot tub filter models in Canada:
Unicel C-5345
Pleatco PBLS50
Filbur FC-2970
M50451
Find this filter type in Canada here: C-5345
Spa filter dimensions:
Diameter: 5 5/16″
Length: 10 1/8″
Top Hole: 2 1/8″
Bottom Hole: 2 1/8″
This spa filter model is made from quality Reemay brand filter fabric.
This 5345 compatible filter model also fits many QCA Spas including: Malta, Riviera, Bermuda, Barcelona, XL-100, XL-400, Cypress, Crete, Palermo/Palmero, Salerno, and Corsica.