C-4326 PRB25-IN FC-2375 Spa Filter Canada M42513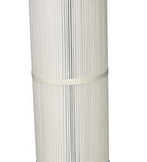 25 sq. ft. Master Deluxe replacement spa cartridge filter model M42513 replaces the following hot tub filter models in Canada:
Unicel C-4326
Pleatco PRB25-IN
Filbur FC-2375
QCA Spas 25392-000-000 
Master Deluxe M42513
Find this filter type in Canada here: c-4326
Spa filter dimensions:
Diameter: 5.0″
Length: 13 5/16″
Top Hole: 2 1/8″
Bottom Hole: 2 1/8″

This spa filter replaces Unicel C-4326 or PRB25-IN and is made from quality Reemay brand filter fabric. 
This filter type is used by many different hot tub manufacturers and brands such as: Acryx-Maax Spas (Canada), Arctic Spas (817-5000), Beachcomber Hot Tubs, Belize Spas, Blue Falls, Maax Spas of Az., Freedom Spas, Great Lakes Spas, Hot Spring Spas, Jacuzzi, Orca Bay, PDC Spas, Royal Spas, QCA Spas, Sarasota, Sundance Spas, Sweetwater, Tiger River, Watkins , Viking Spas, Vita (6540-471).
Replaces OEM part number 413-106, Pentair R173434, Coleman 100533, Rainbow Plastics 17-2325 and 817-5000 as well.