Aqua Comb Spa and Pool Filter Cleaning Device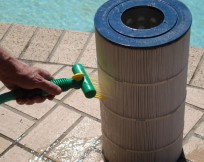 The new Aqua Comb gets in between filters to remove stubborn stains.  Cleaner filters mean cleaner water and trouble-free operation of your pool or spa.
 These pool and spa Aqua combs are made in the U.S. and are handheld filter cleaning devices that attach to a standard garden hose.  They offer a 3-inch water spray with a 9-finger pic comb to easily and thoroughly clean cartridge filters in 3-5 minutes.  They even remove marsite, sand, bugs and other debris caught inside the filter pleats.
When you turn the water on you can see it stream out parallel to the 9 forks for deep cleaning of pool and spa cartridge filters.  These tips bend inwards so they are very flexible.  Grimy filters such as those found in pools with dead bugs and other debris are easy to clean with the Aqua Comb spa and pool cartridge filter cleaning device.  Use a rotating action and you thereby pull all the trapped debris out of the pleats.  Just spraying the pleats with a garden hose leaves many stubborn contents inside the filter which can continue to strain the circulation system in the pool and spa.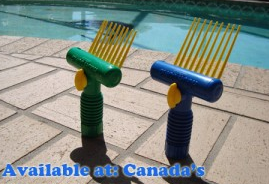 If your cartridge if very dirty, just spend a little more time and see the color of your filter transform from dirty to ready.
The Aqua Comb forks provide amazing leverage for you to get all the physical mass out of the filter pleats.  When you clean the filter, these combs go right down to the core of the filter for com"pleat" cleaning.  You get back your original white filter pleat color with this simple hose attachment.
The green Aqua Comb is for smaller hot tub filters and the larger blue Aqua Comb is for larger pool filters.
The Aqua Comb is currently available in Canada on Amazon Canada with fast shipping.
The aqua comb body is made of UV protected abs plastic

The comb and barrel valve are UV protected nylon

The aqua comb has a 304 S.S. 30 mesh screen hose seal to avoid clogs

Water pressure operating range is 35 lbs/sq. In. To 55 lbs/sq. In

Works great on both salt and chlorine based water filter systems