6CH-940 PWW50P3 FC-0359 Spa Filter Canada M60401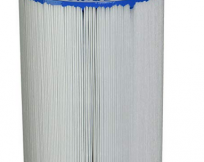 40 sq. ft. Master Deluxe replacement spa cartridge filter model M60401 replaces the following hot tub filter models in Canada:
Unicel 6CH-940
Pleatco PWW50P3
Filbur FC-0359
Master Deluxe M60401
Find this filter type in Canada here:  6ch-940
Spa filter dimensions:
Diameter: 6 0″
Length: 8 1/4″
Top Hole: Handle
Bottom Threaded Connector: 1 1/2″  SAE (coarse threaded)
Square Footage: 40

This  spa filter model is made from quality Reemay brand filter fabric. 
NOTE: This filter type also is available with a MPT/fine threaded connector 6ch-940mpt instead of the coarse threaded connector above.
Unicel 6CH-940 filter type is found in many hot tub brands including Aber Pacific (Canada), Bullfrog Spas, Catalina, Charisma Spas, Clearwater Spas, Gulf Coast Spas, Dynasty Spas, H2O Spas. Infinity Spas and Vita hot tubs.
Shopping from the United States? See the compatible filter here.