6CH-47 PTL47W-P FC-0315 Spa Filter Canada M60471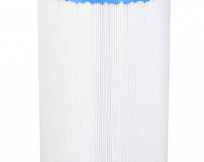 47 sq. ft. Top Load replacement spa cartridge filter replaces the following hot tub filter models in Canada:
Spa filter dimensions:
Diameter: 6.0″
Length: 8 1/4″
Top Hole: Handle
Bottom: 1 1/2″ MPT (fine threaded connector)
Or see the
AK-9015 version which is lower in price with Free Shipping in Canada:

Note: this filter has a fine threaded connector (mpt). If you require a coarse (SAE) connector.
Some older Pleatco filter types have a removable threaded adapter.
Quality spa filters are made from quality Reemay brand filter fabric.