2540-383 Spa Filter Canada M2540383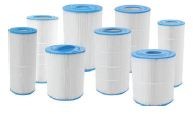 75 sq. ft. Jacuzzi Spa replacement spa cartridge filter replaces the following hot tub filter models in Canada:
Pleatco 2540-383 (OEM#)
Jacuzzi 2540-383
J-400 Series Filter Cartridges 2009 and newer models
Master Deluxe M2540383  – find this 2540-383 replacement spa filter online.
Spa filter dimensions:
Diameter: 6″
Length: 19″
Top Hole: Cap/Handle
Bottom Hole: 2.0 SAE
This spa filter model is made from quality Reemay brand filter fabric. 



original Jacuzzi 2540-383 filter – not a cheap copy.
Note some customer with J-470 from 2018 said this filter was too tall for them so be sure to measure existing filter/compare length.