Hot Tub Chemicals Canada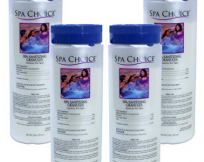 Need hot tub chemicals? You can get them here and have them shipped to you, no need to drive around town looking for them or standing in line at the checkout.
Spa Choice is a line of hot tub chemicals that includes the chlorine spa sanitizing granules.
Spa Choice Sanitizing Granules dissolve quickly and completely.  Chlorine granules provide a steady source of available chlorine to hot tub water to control algae growth, kill bacteria and destroy organic contaminants. Spa Choice chlorine granules are stabilized to protect against ultraviolet radiation from the sun, increasing the life of your chlorine.
472-3-3031-04
See hot tub chemicals in Canada on Amazon.
Leisure Time is also a popular brand and offers the Bright and Clear blue liquid that makes water sparkle.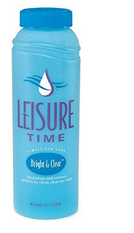 Clears cloudy water – Bright and Clear
Spa Boss brand chemicals are also available online in Canada such as the Spa-Shock.